National Prevention Week
Last Updated: Monday, May 22, 2017
Nationa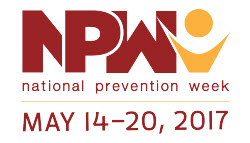 l Prevention Week (NPW), hosted by the Substance Abuse and Mental Health Services Administration (SAMHSA), is an annual national health observance focused on increasing the prevention of substance use and the promotion of mental health. Each year, communities and organizations across ​the country come together to raise awareness about the importance of substance use prevention and mental health promotion. This year's theme is "Making Each Day Count."
There are many ways for organizations and individuals to get involved during NPW, from hosting a prevention-themed event to participating in SAMHSA's social media challenge. As part of this challenge, SAMHSA encourages you to share a video, story, or photo on social media of what you do every day to make each day count. Use the #PreventionPower hashtag and tag your friends and colleagues so they can do the same. Visit the NPW Challenge website to get each month's challenge.
If you're thinking about or already planning an NPW event, check out the NPW Planning Toolkit for ideas and free resources. And don't miss the NPW webinar series, covering important topics such as opioid addiction, substance use prevention, and more. Register today to reserve your spot.
Save the date for the live NPW Kickoff Event on Monday, May 15, at 11 a.m. EDT. Join via webcast by bookmarking this page.
Stay up to date with the latest information about NPW. Sign up for news and tips to help you plan your event. 
Finally, get inspired! Watch the NPW promotional video below. For more information about NPW 2017 and how you can get involved, visit us online.