National Prescription Drug Take Back Day
Last Updated: Monday, October 26, 2020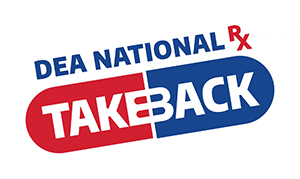 National Prescription Drug Take Back Day is a safe, convenient, and responsible way to dispose of unused or expired prescription drugs at locations in communities throughout the country. 
The October 2019 Take Back Day brought in 882,919 pounds (almost 442 tons) of unused or expired prescription medication and vape devices. 
This brings the total amount of prescription drugs collected by DEA since the fall of 2010 to nearly 12.7 million pounds​. Read more about the most recent Take Back Day totals here.
Check DEA's official Take Back Day website for more information and to find year-round collection sites near you.
In the Meantime ... What Should You Do With Your Unused Meds?
Most people who misuse prescription drugs get them from family, friends, and acquaintances. 
You can make a difference by keeping track of the medicine you have, by rethinking where and how you keep your medications in your home, and by safely disposing of any unused medications.  Read more about ways to secure your meds and safely dispose of them at home.
---
See Related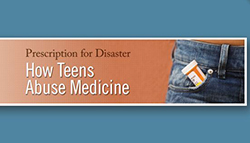 Learn more about the dangers of prescription medications and teens by reading Prescription for Disaster: How Teens Abuse Medicine.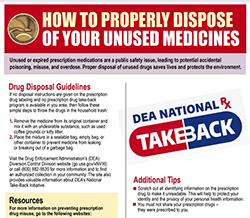 Learn how to properly dispose of prescription medication. 
---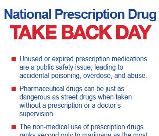 Check out these 'Take Back' day pamphlets in English and in Spanish.