National Recovery Month 2019
Last Updated: Friday, September 20, 2019
National Recovery Month, held each year during the month of September, is sponsored by the Substance Abuse and Mental Health Services Administration (SAMHSA).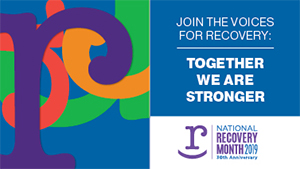 Did you know that about 3.7 million people in the U.S. over the age of 12 received some kind of substance use treatment within the past year (2018 National Survey on Drug Use and Health)?  In addition, the survey estimates that 21 million people in the same age range needed substance abuse treatment in the past year. Considering these stats, you probably know someone fighting addiction.
National Recovery Month – now in its 30th year – recognizes the millions of Americans in treatment for substance use, as well as recovery service providers. It also encourages those struggling with substance use to seek professional help.
 "Join the Voices for Recovery: Together We Are Stronger," is the theme for 2019's commemoration.  The year, the emphasis is on "the need to share resources and build networks across the country to support recovery," according to the official website. 
 
Webinar Series
Don't miss SAMHSA's Recovery Month webinar series! There will be four episodes throughout the month of September. See the topics and get the specific dates.
Are You Interested in Getting Involved?
The RecoveryMonth.gov website has a toolkit with plenty of resources. Learn how you can plan Recovery Month events, spread the word about Recovery Month (with banners, flyers, and other resources) throughout your community, and more. 
Find and post Recovery Month events here. 
 
For more information – including history, public service announcements, and much more – go to the website. 
---