DEA Red Ribbon Week Patch Program
Last Updated: Friday, October 12, 2018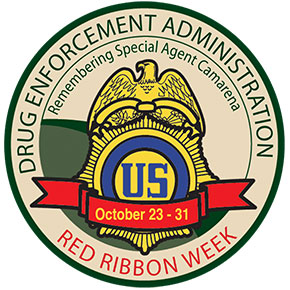 The DEA Red Ribbon Patch Program is designed to provide Boy Scouts and Girl Scouts the opportunity to earn a patch from the Drug Enforcement Administration (DEA) by engaging in anti-drug activities in celebration of Red Ribbon Week. The purpose of the Patch Program is to empower young people to engage in a drug-free activity and strengthen their anti-drug beliefs.
DEA will award a Red Ribbon Patch and Certificate of Participation to the first 15,000 qualifying Boy Scouts and Girl Scouts! Check out the Scout Leader Toolkit for items you'll need to complete the program.
 
What are the dates of the program?
July 9, 2018 - November 13, 2018
 
Who can participate in the program?
All Boy and Girl Scouts are eligible to participate.
 
What are the patch requirements?
Each Scouting unit or troop must coordinate a Red Ribbon Week activity in the community or school.
Each Scout must attend a drug prevention education session.
Each Scout must take the DEA Drug Free Pledge.
The Scout leader must complete and submit the online "Activity Report" upon completion of program requirements. 
 
---
Scout Leader Toolkit:
Scout Leader Activity Report Form
Red Ribbon Press Release Template 
Red Ribbon Public Service Announcement Template
Red Ribbon Flyer
Red Ribbon Drug Free Pledge
Red Ribbon Certificate of Participation
Red Ribbon Patch Program Implementation Guide
Media Waiver Agreement (Scanned and signed media waivers may be e-mailed to Community.Outreach@usdoj.gov or sent to the mailing address:
DEA Headquarters
Community, Outreach, Prevention and Support Section (W-12116)
ATTN: Red Ribbon Patch Program
8701 Morrissette Drive
Springfield, VA 22152