National Prevention Week
Last Updated: Thursday, April 2, 2020
National Prevention Week is May 10-16, 2020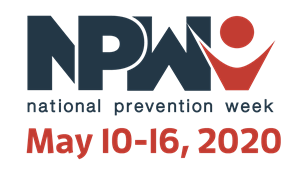 l Prevention Week (NPW), hosted by the Substance Abuse and Mental Health Services Administration (SAMHSA), is an annual national health observance focused on increasing the prevention of substance use and the promotion of mental health. Each year, communities and organizations across ​the country come together to raise awareness about the importance of substance use prevention and mental health promotion.
There are many ways for organizations and individuals to get involved during NPW, from hosting a prevention-themed event to participating in SAMHSA's social media challenge.
In addition, every year National Prevention Week includes daily themes to focus on major substance use and mental health topics. The 2020 daily themes are:
Monday, May 11: Preventing Prescription Drug and Opioid Misuse
Tuesday, May 12: Preventing Underage Drinking and Alcohol Misuse
Wednesday, May 13: Preventing Illicit Drug Use and Youth Marijuana Use
Thursday, May 14: Preventing Youth Tobacco Use (E-Cigarettes and Vaping)
Friday, May 15: Preventing Suicide
If you're thinking about or already planning an NPW event, check out the NPW Planning Toolkit for ideas and free resources. And don't miss the NPW webinar series, covering important topics such as opioid addiction, substance use prevention, and more.