Ways to Celebrate Red Ribbon Week
Last Updated: Friday, October 27, 2017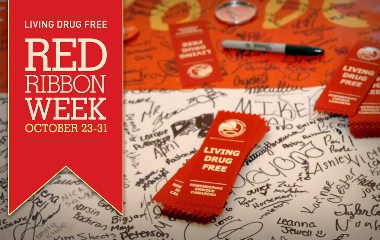 Red Ribbon Week is here! Is your school or organization still thinking of ways to celebrate? Check back on this page all week long for quick, creative and fun ideas!  And don't forget to look at our main Red Ribbon Week page for history, videos and more about the celebration.
Tip # 1
Incorporate drug prevention facts and tips in your school-wide announcements and websites throughout Red Ribbon Week. Create a bulletin board display about Red Ribbon Week and post it in a high traffic area of your school or organization.
 
Tip #2
Wear red ribbons and distribute them to your friends, family, volunteers, staff, and employees.
Tip #3
Promote Red Ribbon at your school's sporting events by handing out red ribbons, provide information about Red Ribbon Week, and have the parents and students say a drug free pledge.
Tip #4
Do a drug prevention and refusal skills skit with your students or children.
Tip #5
Start a Red Ribbon Club that meets regularly to promote drug prevention throughout the year.
Tip #6
Display red ribbons on the interior and exterior surfaces of your organization's building.
Tip #7
Post fact sheets and Red Ribbon Week event notices and other materials on community webpages, bulletin boards in libraries, hospitals, local churches, synagogues, gymnasiums, grocery stores, parks and recreation departments, health clinics, universities, and other public places.