Number of U.S. Drug Overdoses Increase in 2016
Last Updated: Friday, August 11, 2017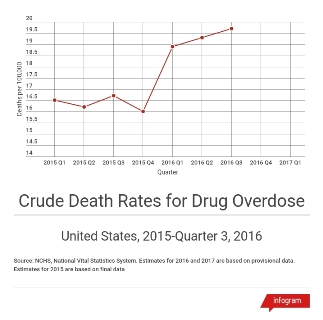 The number of drug overdoses in 2016 increased from the year before, according to the latest numbers from the Centers for Disease Control and Prevention.
Numbers for the full year aren't out yet, but if you look at the third quarter of 2016, the number of all drug overdose deaths increased to almost 20 cases for every 100,000 people, compared to 16.7 cases during third quarter 2015.
In addition, drug overdose deaths from each of the first three quarters of 2016 outpaced the first three quarters of 2015.
The rise in drug overdoses coincides with the opioid addiction epidemic currently devastating the nation.