Report: Teen Marijuana Use Declines in 2016, Rises for Adults
Last Updated: Wednesday July 28, 2021
---

Teen "past month"
marijuana
use has dipped to its lowest point in several years, according to a new report from the Substance Abuse and Mental Health Services Administration (SAMHSA) that summarized a national survey.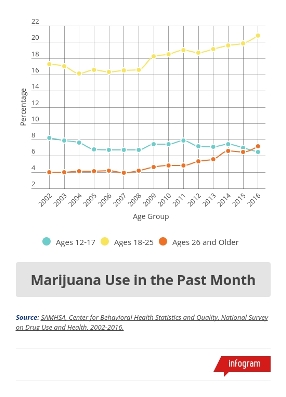 In 2016, 6.5 percent of young people surveyed between age 12 and 17 said they used marijuana in the past month, according to the 2016 National Survey on Drug Use and Health (NSDUH). That number represents a 0.5 percent drop from 2015. This is also the first time the percentage has been below seven percent since 2009.
 But, for adults, the numbers are moving in the other direction.
 Past month marijuana use among young adults (age 18-25) is at its highest percentage since 2002. In 2016, 20.8 percent of that age group that were surveyed said they'd used marijuana in the last month – a one percent increase from 2015 and the highest percentage since 2002. And among adults age 26 and older, 7.2 percent admitted past month marijuana use. This is the highest it has been since 2002. 
Read the full report:
Key Substance Use and Mental Health Indicators in the United States: Results from the 2016 National Survey on Drug Use and Health.