Take Back Day Events Collect Record Amount of Meds
Last Updated: Monday, July 9, 2018
(November 8, 2017) The Drug Enforcement Administration collected a record 456 tons (912,305 pounds) of expired and unused medication during Take Back Day events across the country last month.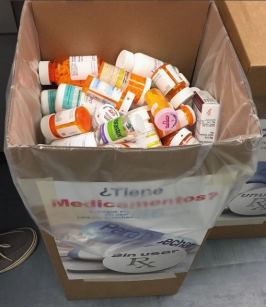 This tops the previous record amount – 450 tons – from April's Take Back Day, and brings the total amount of prescription drugs collected by DEA since the fall of 2010 to 9,015,668 pounds, or 4,508 tons.
 
Removing possibly dangerous and addictive medicine from the household plays an important role in the fight opioid abuse.
 
"More people start down the path of addiction through the misuse of opioid prescription drugs than any other substance," said Acting Administrator Robert W. Patterson. "Educating the public and removing these medications from households across the Unites States prevents misuse where it often starts." 
Read more on justice.gov.