Opioids no better than NSAIDs for chronic back or arthritis pain
Last Updated: Friday, March 9, 2018
(Reuters Health, March 6) – Non-opioid painkillers – like Acetaminophen and ibuprofen – are just about as effective for back, knee, or hip pain as opioids, according to a new study.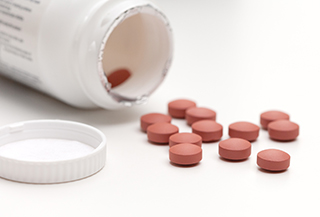 Researchers gave 240 pain sufferers – mostly male, in their late 60s – either opioids or the less addictive acetaminophen and NSAIDS (nonsteroidal anti-inflammatory drugs) and surveyed them after 12 months using a 10-point scale (with 10 being the highest level of pain).
They found that both groups saw a similar decrease in pain after that time period. For the opioid group, the pain dipped from a 5.4 on the scale to a 4.0; while the group that used other medicine saw their pain dip from a 5.4 to a 3.5.
"We already knew opioids were more dangerous than other treatment options, because they put people at risk for accidental death and addiction," said lead study author Dr. Erin Krebs of the Minneapolis VA Health Care System and the University of Minnesota.
"This study shows that extra risk doesn't come with any extra benefit," Krebs added. Read more.