Take-Back Day Brings in Record Amount of Prescription Meds
Last Updated: Thursday, July 5, 2018
(May 7, 2018) The Drug Enforcement Administration's latest Take-Back Day brought in almost  1 million pounds of unused or expired prescription medication. This is the largest amount collected since the program began in 2010.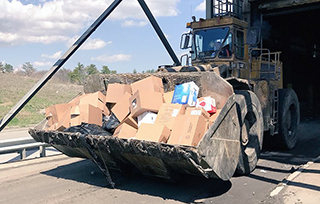 First load of prescription drugs collected in Massachusetts (Photo from DEANewEngland Twitter)
This brings the total amount of prescription drugs collected by DEA since the fall of 2010 to 9,964,714 pounds, or 4,982 tons.
There were also about 500 more collection sites for the April 28 event than the October 2017 Take-Back Day.
"These Take Back Days continue to break records, with the latest taking nearly 1 million pounds of prescription drugs off of our streets," Attorney General Jeff Sessions said in a statement. "And so I want to thank DEA and especially every American who participated in this event. I have no doubt it will help keep drugs out of the wrong hands and stop the spread of addiction."
Get more information and find out where you can drop off your unused or expired medication year round on Take-Back Day's official website.
Can't make it to a drop off location? Get tips on how you can properly dispose of medication at home.