DEA Collects More Than 900,000 Pounds of Meds During Take Back Day
Last Updated: Friday, November 2, 2018
(November 2, 2018) This October's National Prescription Drug Take Back Day was a huge success. More than 900,000 pounds of unused or expired medication was collected from almost 6,000 sites across the nation.
This brings the total amount of prescription drugs collected since Take Back Day began in the fall of 2010 to 10,878,950 pounds.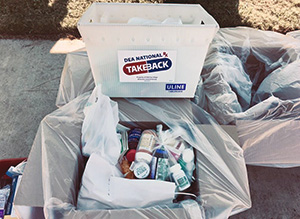 Take Back Day collection box (Credit: DEA San Diego, Twitter)
"The results of our most recent Take Back Day clearly demonstrate a need for this initiative as a tool in the fight against America's opioid crisis," said Acting Administrator Uttam Dhillon. "The success of this event is a direct reflection of DEA's commitment to prevent drug addiction and overdose deaths in the U.S. Together, we are all helping to make a difference to keep our friends and families safe.
National Take-Back Day – held twice a year – is a safe, convenient, and responsible way to dispose of unused or expired prescription drugs at designated locations.
The next Take Back event will be April 27, 2019. Read more.
Get additional details about the latest Take Back Day, including state-by-state totals.