North Dakota College Wins Campus PSA Contest
Last Updated: Tuesday November 23, 2021
---

Jo's winning anti-drug PSA 
(January 31, 2019) Congratulations to North Dakota State College of Science student Jolisa 'Jo' Ross! Her catchy, rapping PSA won the top prize in the 3rd Annual Red Ribbon Week Campus Video PSA Contest.
DEA and the Substance Abuse and Mental Health Services Administration sponsored the contest as part of Red Ribbon Week activities last fall. Colleges and universities that entered produced a 30- to 60-second antidrug video PSA focusing on the dangers of alcohol and drug abuse among college students.
Third Time's a Charm
Jo's win comes after her entry from the previous year was disqualified for missing a crucial piece of content (and the school's entry in the contest's first year).
But she didn't let her short-lived disappointment get her down.
"I decided to reenter because I think that the purpose of this contest is a really important one," the 19-year-old sophomore told us.  "If I could help relay the message in a way that grabs the audience in a memorable way, then I wanted to do that for the greater good of our society."
During the PSA, Jo appears with her friends while she raps about the negative effects drug and alcohol use can have on grades and the body.
College Students and Drug Use
How can college students avoid being tempted to try drugs? Jo believes it comes down to taking advantage of free time in ways that are beneficial.
"There are plenty of things to do during free time besides school work," she said. "There are things like movies, arcade games, socializing, cooking, drawing, and listening to music. All of these things can be beneficial if they [students] are choosing things that can make them naturally happy while simultaneously staying out of legal trouble."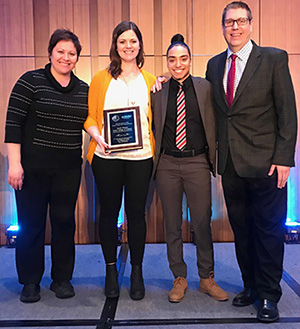 Pictured (l to r): Kerri Kava (Assistant Director of Student Life, North Dakota State College of Science), Bethany Mauch (Alcohol, Tobacco, and Other Drug Prevention Specialist, North Dakota State College of Science), Jo Ross (student, North Dakota State College of Science), Rich Lucey (Prevention Program Manager, Drug Enforcement Administration)
After she graduates, Jo hopes to get a scholarship offer to continue her basketball career and use her bachelor's degree in criminal justice. Otherwise, she plans to enter the academy and start her career in law enforcement.
The winning PSA was unveiled at the National Association of Student Personnel Administrators' 2019 Strategies Conference on January 18, 2019, in Washington, DC. This conference provides student affairs practitioners with the knowledge and skills to effectively address collegiate alcohol and drug abuse prevention through comprehensive approaches. Rich Lucey (Prevention Program Manager) of DEA's Office of Congressional and Public Affairs made the announcement during one of the conference's plenary sessions.
As the Contest's winner, North Dakota State College of Science received a plaque and $3,000 to support their campus's drug abuse prevention efforts.
Created in 1985 after drug traffickers murdered DEA Special Agent Enrique "Kiki" Camarena, Red Ribbon Week has since become an annual event demonstrating intolerance for drugs in our nation's schools, workplaces, and communities. Each year from October 23–31, people in cities and towns across the United States show their commitment to a healthy, drug-free lifestyle by wearing or displaying the Red Ribbon.