Jail for Colombian vet who implanted liquid heroin in puppies
Last Updated: Saturday, February 9, 2019
 (CNN, February 7) A former veterinary student from Colombia who surgically implanted liquid bags of heroin into puppies was recently sentenced to six years in prison by a U.S. court.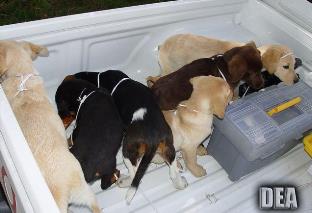 A few of the puppies rescued from the Medellin farm.
Andres Lopez Elorez, 39, implanted the drugs into nine puppies between 2004 and 2005. The animals were to be imported to the United States. Police raided the Medellin, Colombia farm where the dogs were being raised early in 2005 and discovered 17 bags of liquid heroin (10 were removed from the puppies). Three of the puppies died due to complications from the surgery. Elorez was eventually arrested in Spain in 2015 and brought to the U.S. to face charges last year. Read more.
Read more about the case on DEA.gov.