DEA Museum Lecture: DEA Special Agents
Last Updated: Thursday, May 23, 2019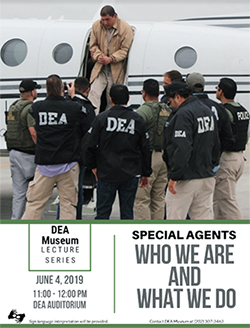 (May 23, 2019) Take a peek into the inner workings of the Drug Enforcement Administration in our 2019 lecture series "Who We Are and What We Do." Join Elizabeth L. Maurer, Curator of Education for the DEA Museum at a panel discussion with four DEA Special Agents.
Special Agents are on the front line for drug law enforcement in America and around the world. DEA's goal is to eliminate illegal drug distribution, prosecute traffickers and destroy the financial infrastructure of these organizations. As the federal government's premier drug law enforcement agency, our mission has never been so important. Agents are prepared for innumerable tasks including facilitating informant contacts, making drug arrests, community outreach, and international diplomacy.
Date: 
Tuesday, June 4, 2019
Time:
11 a.m. – 12 p.m. ET
Location:
Auditorium, DEA Headquarters
700 Army Navy Drive
Arlington, VA 22202
This event is free and open to the public.
Can't make it in person? The event will also be streamed online on the DEA Museum's website. Here's the link.