DEA Museum Lecture: Diversion Control
Last Updated: Wednesday, July 10, 2019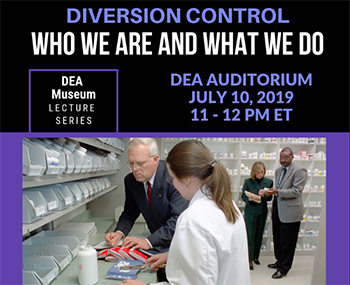 Take a peek into the inner workings of the Drug Enforcement Administration in our 2019 lecture series "Who We Are and What We Do." 
Join Elizabeth L. Maurer, Curator of Education for the DEA Museum at a panel discussion with three members of DEA Diversion Control.
Diversion Investigators enforce the Controlled Substances Act (CSA) and the Chemical Diversion and Trafficking Act (CDTA), prevent diversion of controlled substances and listed chemicals into the illicit market, and more.
Date: Wednesday, July 10, 2019
Time: 11 a.m. – 12 p.m. ET
Location: Auditorium, DEA Headquarters, 700 Army Navy Drive, Arlington, VA 22202
 
This event is free and open to the public. The audience can also email questions to Elizabeth.L.Maurer@usdoj.gov during the discussion.