Adults who mix cannabis with opioids for pain report higher anxiety, depression
Last Updated: Friday, August 23, 2019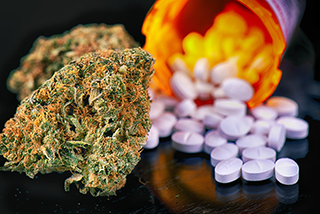 (Science Daily, August 12) According to a survey, adults who take prescription painkillers while also using marijuana are likelier to have more anxiety, depression and issues with other drugs.
University of Houston researcher Andrew Rogers surveyed 450 adults across the country to reach his findings, which were published in the Journal of Addiction Medicine. The participants had suffered from moderate to severe pain for more than three months. He found that those who used marijuana in addition to the prescription opioids dealt with more anxiety and depression, and used tobacco, alcohol and cocaine more often than the people who just used their prescriptions.    
"Given the fact that cannabis potentially has analgesic [painkiller] properties, some people are turning to it to potentially manage their pain," Rogers said. Read more.