DEA releases 2019 National Drug Threat Assessment
Last Updated: Friday, February 14, 2020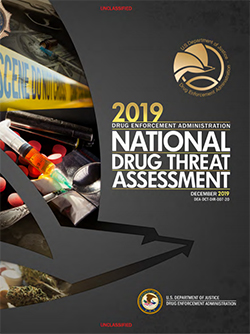 WASHINGTON – DEA Acting Administrator Uttam Dhillon today announced the publication of the 2019 National Drug Threat Assessment, which outlines the threats posed to the United States by domestic and international drug trafficking and the abuse of illicit drugs.
"This year's report illustrates a shifting drug landscape in the United States," said Acting Administrator Dhillon. "We're pleased that in 2018, drug overdose deaths declined over four percent overall, with even greater decreases – over 13 percent – in overdoses from controlled prescription opioids. Many challenges remain, however, including the spread of fentanyl and methamphetamine across the country. DEA and its partners will continue to work diligently to combat the drug trafficking organizations that bring these deadly substances into our country and endanger the American people."
Illicit drugs, and the criminal organizations that traffic them, continue to represent significant threats to public health, law enforcement, and national security in the United States. As the National Drug Threat Assessment describes, the opioid threat continues at epidemic levels, affecting large portions of the United States. Meanwhile, the stimulant threat, including methamphetamine and cocaine, is worsening and becoming more widespread as traffickers continue to sell increasing amounts outside of each drugs' traditional markets. Read the report here.