Study: Overdose risk doubles for young people with family on opioids
Last Updated: Thursday, April 30, 2020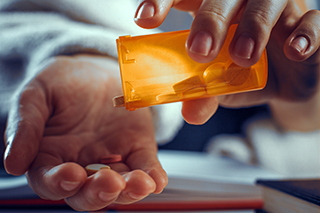 (UPI, March 27) -- According to a recent study, young people who have family on prescription opioids are more than twice as likely to overdose on pain meds.
The study, titled "Association of Opioids Prescribed to Family Members With Opioid Overdose Among Adolescents and Young Adults" was published by JAMA Network Open.
"Prescription opioids are potent medicines that can pose serious health risk to children and teens, if taken accidentally or misused on purpose," study co-author Dr. Anh P. Nguyen told UPI. "Parents should control access to these medications in the home." Read more.
Read the study:
https://jamanetwork.com/journals/jamanetworkopen/fullarticle/2763605?utm_source=For_The_Media&utm_medium=referral&utm_campaign=ftm_links&utm_term=032720