Resources for Educators
Last Updated: Wednesday, April 28, 2021
When it comes to preventing drug use among young people, education plays a very important role. This page contains online drug education resources – lesson plans, activities, videos – from different websites targeted to various grade levels that both parents and teachers can use.
Teen vaping – of both tobacco and THC (marijuana) – is on the rise and is a growing concern in schools. Check out these resources on the topic.
In addition, get information on how you can help students you think may have a problem, and more.
Get lesson plans and info for the drugs below:
---
General Drug Education Resources
Drugs and Your Body - Interactive  (For grades 6-12)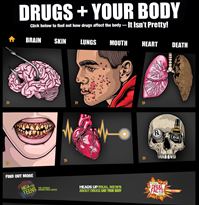 Scholastic and the scientists at the National Institute on Drug Abuse (NIDA) have created this poster/teaching guide, Drugs + Your Body: It Isn't Pretty, to provide factual details and critical-thinking questions on the effects drugs have on the developing brain and body.
Poster: http://www.scholastic.com/drugs-and-your-body/
Teachers' Guide: http://headsup.scholastic.com/teachers/drugs-your-body-it-isnt-pretty
Heads Up: Real News about Drugs and Your Body (For grades 6-12)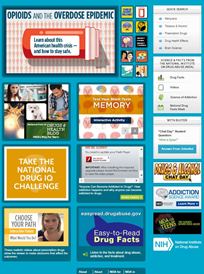 NIDA and Scholastic teamed up to create a treasure trove of resources for both teachers and teens about the dangers of drug use in general and the dangers of specific drugs as well. You can access them using the links below.
Teens: http://headsup.scholastic.com/
Teachers:  http://headsup.scholastic.com/teachers/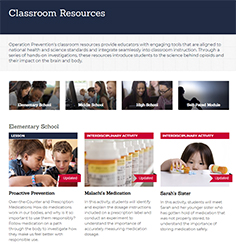 DEA and Discovery Education teamed up to produce Operation Prevention's classroom resources to provide educators with engaging tools that are aligned to national health and science standards and integrate seamlessly into classroom instruction. Through a series of hands-on investigations, these resources introduce students to the science behind opioids and their impact on the brain and body. Go to the site. Watch: Learn more about Operation Prevention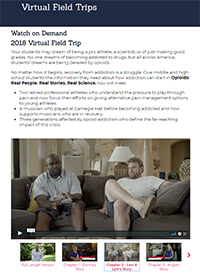 Take your students on a virtual journey! Opioids: Real People. Real Stories. Real Science. is currently featured on the Operation Prevention website's Virtual Field Trip section. During the journey, you'll meet two retired professional athletes, a musician and three generations -- all affected by opioid misuse in some way. The trip includes a companion guide that can be used to prepare your students for the "trip." Go to the site.
This toolkit offers science-based activities and resources on drug use and addiction for educating teens during out of school time (OST). The OST setting—before and after school, in the summer, or any time teens attend a supervised program outside of the typical school time—offers a unique opportunity for STEM (science, technology, engineering, and math) learning. Read more.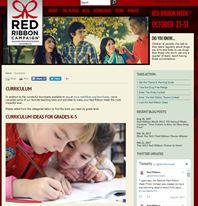 Organized by grade level, this page contains a collection of tools and activities teachers can use to develop anti-drug lessons. Feel free to use them as a resource during Red Ribbon Week or anytime during the school year. Go to the site.
---
Drug Facts and Lesson Plans
Are you interested in lessons or activities focused on a specific drug? The National Institute on Drug Abuse (NIDA) has an awesome Lesson Plan Finder that features FREE science-based lessons and interactive activities on teens and drugs. Go to their site to check it out.
Also, see quick facts about each drug below:
---
Vaping Info
Check out this awareness campaign and toolkit for parents, teachers, school administrators, and teens.
Print out these posters to hang in your classrooms. The posters feature eye-opening facts about vaping.
---
What if You Suspect a Student is Using Drugs?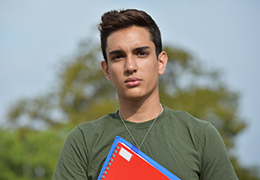 Before taking any action, it is important to consult the written guidelines your school or school system may have with regards to this matter. As a supplement, you may find the resources below helpful.