FDA ramps up warnings about kratom, calling unregulated herb an 'opioid'
Last Updated: Friday, February 16, 2018
(
The Washington Post
, February 6) Last fall, the Food and Drug Administration issued an advisory about the deadly risks of the botanical substance kratom.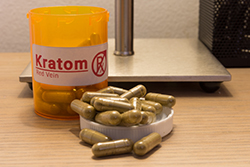 This week, the agency stepped up its initial warning 
in a new press release
, saying that research shows that kratom has "opioid properties" and is associated with 44 deaths (an increase from the 36 deaths they reported in November's advisory). 
Read more. 
See Related: