The botanical substance kratom (also known as thang, kakuam, thom, ketum , and biak) has popped up in the news again due to the U.S. Food & Drug Administration's recently issued advisory about its deadly risks.
How much do you know about kratom and the controversy surrounding its products? Check out these five questions and answers below and get caught up: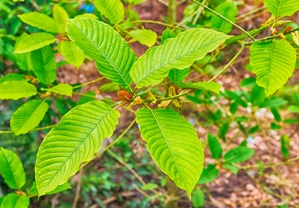 What exactly is kratom?
Kratom is a plant that grows from tropical trees in Southeast Asian countries like Thailand, Malaysia, Indonesia and Papua New Guinea. Users consume kratom by ingesting it through tablet, capsule or extract; smoking its leaves; making a tea with the leaves, or chewing the leaves.  
What can it do to your body?
At low doses, increased alertness, physical energy, and talkativeness
At high doses, sedation
Addictive: causes hallucinations, delusion, and confusion
Nausea, itching, sweating, dry mouth, constipation, increased urination, and loss of appetite
Long-term use can cause anorexia, weight loss, and insomnia
Several cases of psychosis resulting from use of kratom have been reported, where individuals addicted to kratom exhibited psychotic symptoms, including hallucinations, delusion, and confusion.
Why do people use Kratom?
Kratom is often marketed by its fans as being "safe" because it is plant based.  People use it to treat pain, anxiety and depression. Others use it recreationally because it can provide a euphoric high. And, finally, with the increase in opioid abuse nationwide, there are people using kratom to treat withdrawal symptoms.
Is it legal?
Kratom is legal in the U.S. (although some states may have regulations or prohibitions against the possession and use of kratom). The Drug Enforcement Administration currently has it listed as a Drug and Chemical of Concern and, as mentioned earlier, the FDA recently issued an advisory about its deadly risks.
Why is the FDA worried?
According to their advisory:
"Evidence shows that kratom has similar effects to narcotics like opioids, and carries similar risks of abuse, addiction and in some cases, death."
The use of kratom by some to help with opioid withdrawal is also troublesome, according to the agency. Currently, there isn't any reliable evidence to support it being used for that reason. In addition to that, users aren't consulting licensed health care providers about kratom's dangers and potential side effects or interactions with other drugs.
Calls to U.S. poison control centers due to kratom have increased 10-fold from 2010 to 2015, and the FDA reports 36 deaths from kratom-containing products, according to the advisory.
See related
Get more information about the FDA's advisory, including the steps the agency is taking against kratom-containing supplements.