CDC reports 153 possible cases of vaping-related illnesses, many involving THC
Last Updated: Friday, August 23, 2019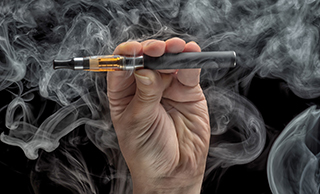 (USA Today, August 22) Vaping (the use of e-cigarettes) is behind a recent rash of serious lung illness across the nation, according to the Centers for Disease Control and Prevention. Many of those cases involved THC, the psychoactive ingredient in marijuana.  
Within the past two months, 153 people in 16 states were hospitalized.
"In many cases, patients reported a gradual start of symptoms including breathing difficulty, shortness of breath, and/or chest pain before hospitalization," the CDC media statement said. Read more.