Teen vaping tied to marijuana use
Last Updated: Friday, August 23, 2019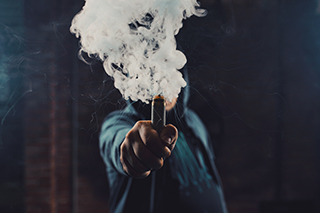 (Reuters Health, August 13) – Young e-cigarette users are more likely to go on to use marijuana, according to a new study.
Researchers came to this finding after looking at data from 21 studies that included more than 128,000 people between 10 and 24. They found that teens between the ages of 12 and 17 were 4.3 times more likely to use marijuana if they smoked e-cigarettes. They also found that the e-cigarette users who were ages 18 to 24 were 2.3 times more likely to use marijuana.
"What this study suggests is that e-cigarettes (most of which contain nicotine) should be considered harmful, in a similar way as other substances like alcohol and tobacco, which have also been associated with increased marijuana use," the study's lead author, Dr. Nicholas Chadi, said. Read more.
Read the study: Association Between Electronic Cigarette Use and Marijuana Use among Adolescents and Young Adults
See Related: Vaping and Teens