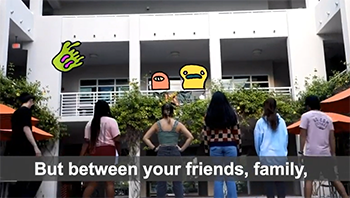 The University of Miami is one of the two schools that won first place in the 2020 Red Ribbon Week Campus PSA Contest! 
As part of the annual contest, launched in 2016, colleges and universities that entered produced a 30- to 60-second antidrug video PSA focusing on the dangers of alcohol and drug misuse among college students.
For the first time in the contest's history, two schools snagged the top prize. The North Dakota State College of Science also won; check out their PSA.
Watch the University of Miami's Winning PSA below.
Learn more about the contest, and watch winning videos from previous years: https://www.campusdrugprevention.gov/psacontest