This overview will provide you with information you may need about Go Red for Red Ribbon Week and to request that a building, landmark, business, and/or bridge in your community light up red as a way to draw awareness to Red Ribbon Week.
 
What is Go Red for Red Ribbon Week?
Brings awareness into the community by lighting up buildings, businesses, bridges, and other landmarks in red.
Go Red for Red Ribbon Flyer (PDF)
Why Request a Landmark in Your Community to be Lit Up?
Help your city/state recognize Red Ribbon Week in an official capacity;
Creates a local story for your local news outlets;
Establishes a place for Red Ribbon Week supporters to congregate on the day of the lighting;
Share local Red Ribbon stories to new audiences (i.e., how schools and others are celebrating Red Ribbon Week).

 
Brooklyn Borough Hall, Brooklyn, New York
Brainstorm locations.
Think about landmarks, bridges, and notable buildings in your community. Is there a site that stands out in the skyline?  A place where people gather for large events?
Plan ahead.
Requests to light up a building, business, landmark, and/or bridge may typically need to be submitted one to three months in advance.
Be flexible.
When asked for a date, the first choice should always be the week of October 23-31.  The entire month of October is National Substance Abuse Prevention Month, so there are plenty of opportunities for a location to be involved and help spread the message of living a drug-free life!
Tell your community!
Once you've received confirmation that a location in your area will Go Red for Red Ribbon Week, it's time to tell everyone!
Use e-mail, newsletters, and/or social media posts to spread the word about Go Red for Red Ribbon Week. 
Plan a gathering at the location for your friends, family, and community members to view together. Or gather at a nearby spot where you have a view of the site for great photo opportunities (of course, be aware about safety!).
Expand Go Red for Red Ribbon by lighting classrooms, offices, libraries, and other locations in red using red bulbs, red gel filters, or red balloons and decorations.
Tell the media!
Publicize the event on your organization's website.
Reach out to the primary news outlets in your area to cover your event.  Create a media advisory or press release.
Send event info to the daily newspaper, radio station, and community calendars.
Post your Go Red for Red Ribbon Week photos on social media and use the hashtags #DEARedRibbon and #GoRed4RedRibbon.
Why Support Red Ribbon Week: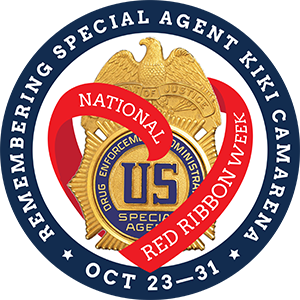 Red Ribbon Week highlights the importance of living a drug-free life. It presents an opportunity for parents, educators, and communities to reinforce the drug-free messages they share with their children throughout the year. During Red Ribbon Week, youth and adults around the nation pledge to increase their knowledge by learning more about the destructive effects of drug abuse, including prescription drug misuse, and renew their commitment to live a healthy, drug-free lifestyle. 
Red Ribbon Week is the nation's oldest and largest drug prevention awareness program. Red Ribbon Week started after the death of Drug Enforcement Administration Special Agent Enrique (Kiki) Camarena, who in 1985 was brutally tortured and murdered by drug traffickers he was investigating in Mexico. After Kiki's death, people started wearing red ribbons to honor his sacrifice. Today, decades after Kiki's death, millions of people celebrate Red Ribbon Week by wearing red ribbons, participating in community anti-drug events, and pledging to live drug-free lives. 
Thank you for helping spread awareness about Red Ribbon Week in your community!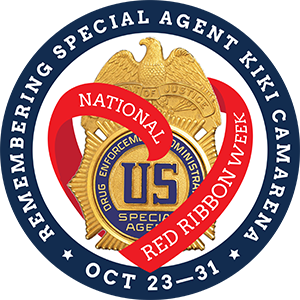 Red Ribbon Week
Get more information about the history of Red Ribbon Week, as well as all of the related resources.